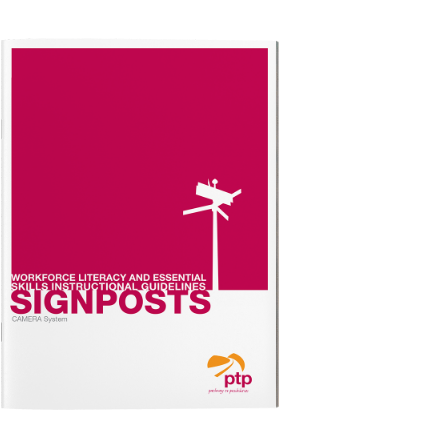 Signposts: Workforce Literacy & Essential Skills Instructional Guidelines
The Signposts document is a guide for instructors working with adult literacy learners who have employment goals. Signposts serve three functions: 1) it orients instructors to the content and materials they can introduce to learners to help them prepare for work, (2) it provides instructional ideas for practising these important skills, (3) and it provides ideas and materials for assessing learners informally as they develop their skills.
Signposts is a part of a larger workforce literacy system that includes a formal, standardized assessment package known as CAMERA- Communication and Math Employment Readiness Assessment. The tests that make up CAMERA provide valid placement and diagnostic information to adult literacy program practitioners. The CAMERA tests, used in conjunction with Signposts and workwrite, provides all the tools a literacy program needs to adequately prepare learners for work. 
Digital ISBN: 9781928165019
Hard Copy ISBN: 1-55383-078-4